iKcon Mobile Dialers and Softphone that gives your customers to make VoIP calls from their cell phones utilizing 3G, GPRS and Wi-Fi Internet. This product was created for the client's convenience as well as the administrator's need as a primary concern. This inventive Softphone not just give the client's of relating VoIP a chance to administration to make VoIP calls from their cell phone additionally let the branding of their server as an operator. It is good with Symbian OS iPhone, Android and Windows Cell phone.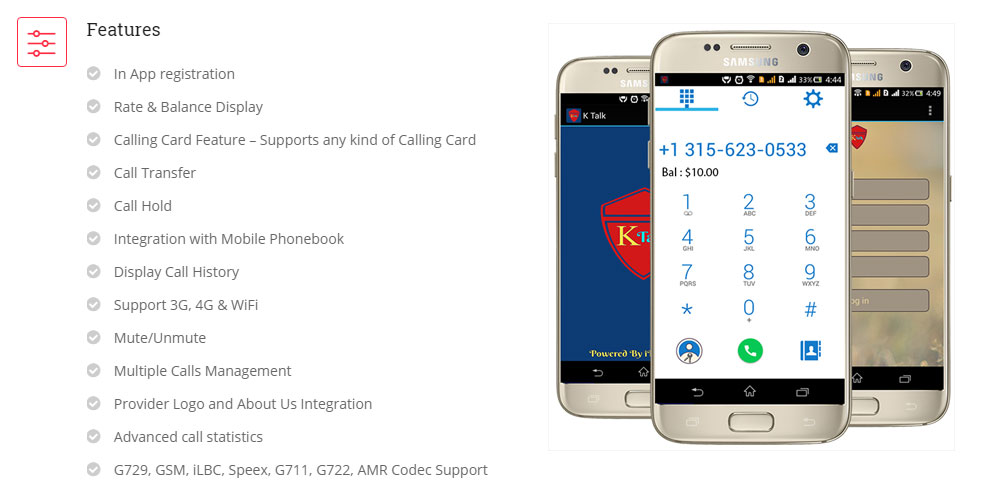 Customizable
The best thing is that iKcon Application is completely customizable. That is, our team is set to change it to your own preferences and necessities. From symbols to logos, we will alter our product to fit your need. Our specialists are constantly available for you.
Compatible
We comprehend that clients are not confined to one platform. You don't should be either. iKcon App intended to work with well known platforms, for example, Windows, Nokia, iPhone and Android.
Works in Blocked Ranges
iKcon App VoIP Software works similarly well in the blocked areas. Truth be told, it is one of the quickest growing Calling App in VoIP industry, particularly in GCC markets, for example, Bahrain, Kuwait, Oman, Qatar, Saudi Arabia,
Complete Solution
From server rentals to modified software products, we will give you the aggregate solution. With our extensive variety of services, you won't need to deal with different organizations.
You can appreciate a profoundly direct interface of a commonplace Windows program with no favor skins and confusing button arrangement. iKcon Application & Softphones are easy to utilize while giving you all that you have to encourage communication around the workplace. Sound and video quality is astoundingly great and the program is completely perfect.
Features of iKcon Calling Application:
Clean & User friendly interface
Support SIP for signaling.
Supports g.729, AMR, GSM and g.711 codec for sending audio information (data).
Works with EDGE, GPRS, Wi-Fi and VPN Access Points
Works from any type of firewalled network
Support call from blocked nations
Completely customizable and can be changed according to your requirements.
Can be used with any kind of Softwich.
Voice quality is aligned with CNG (Comfort Noise Generation), VAD (Voice Activity Detection) to guarantee completely clear voice
Call Display
Call Timer Display
Balance Display
Call History
Phone Book (Synchronize with phone's Address Book)
Keep running behind NAT or on private IP.
Balance information via IVR
Available on iPhone, Android Platform and Windows.